Swinger, The (1966)

Hey Swinger...

I am a huge fan, and I finally got to see this movie, not available on video, on AMC. The 'plot' concerns good girl journalist Kelly Olsson (A-M's real last name) who wants to be published in "Girl-lure" men's magazine, and she wants her story published, not her photo. She writes a lurid expose of a wild swinger girl and tells the horny editor the girl in the story is her, to try to get it printed. So, she has to spend the rest of the movie convincing the Girl-lure staff she is for real. Please note that this plot summary makes the movie's plot sound much more coherent than it actually is.

Terrible continuity, the main actors are nothing special, very corny jokes, and there seems to be no discernable script. However, who cares? We've got an opening montage of Ann-Margret singing the title song and jumping on a trampoline wearing a black catsuit, turning on the sex appeal full force. And that's just for starters! SEE a house she lives in with a bunch of beatniks including the dance group billed in the opening credits as the"Swinger's Dozen" who spend their time doing choreographed dance routines in the living room, and when A-M passes through, she just has to join in and go-go dance. SEE hey guys, we have A-M covered in paint and used as a human paintbrush (though not nude as the Playboy pictorial would have you beleive-sorry guys, Playboy doctored the photos) by a bunch of beatniks wearing jungle loinclothes. SEE Edith Head doing the absolutely to-die-for 60's costumes, some of which are showcased in those photo montages. SEE A-M wearing a different outrageous 60's hair extension/style in almost every scene. SEE a magazine headquarters obviously modeled on Playboy Enterprises where models walk around in bikinis and there is a framed photo on the wall of a groovy chick that actually rotates on a mechanical roller to show a different model every 5 seconds. And that's just what I can think of off the top of my head.

George Sidney directed the movie and it shows. He was the director of Bye Bye Birdie, totally smitten with Ann-Margret, who saw her talent when she was still fairly unknown and used his own money to shoot a new beginning and ending for BBB showcasing A-M. He was completely in love with A-M, and so for all the guys out there who feel the same way about her, watch this movie and you'll be in heaven.

Grade: A-


Until I get the other reviews up, take a look at the photos- va-va-VOOM!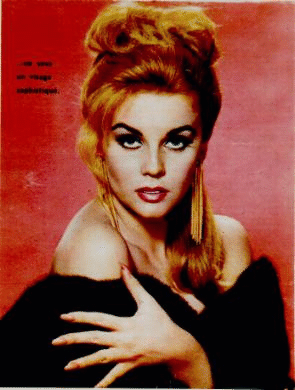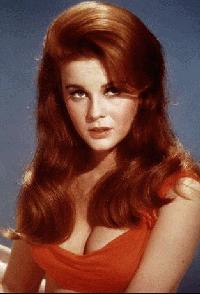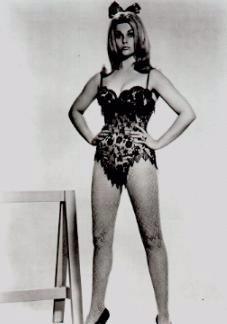 Flintstones
Hooray for Hollyrock (1994)

OK, right off the bat, I will state that of the two epsisodes on this great collectible for Flintstones/Hanna-Barbara fans, I have only watched the "Stony Curtis" ep once or twice, while the number of times I've watched "Ann-Margrock Presents" about ...well, an embarassing number of times.


Before I get into that, one thing that is notable about this episode was that it marked an important moment in TV history- the first time a celebrity played themself in a cartoon, back in the early 60's. Even Entertainment Weekly put this on their list of "Top 100 TV Moments in History", because it led the way for other animated characters voiced by their real-life counterparts-the Simpsons do this constantly, among many others, but this episode paved the way.

Ann-Margret fans, this is a must for your collection if you don't have it already. I was so happy when they reissued it on video, and at such a great price. The plot of the cute episode is when Hollywood starlet Ann-Margrock tools into town in her little Flintstonesmobile (convertible, of course) for a performance at the Hollywood Bowl, telling her manager that she doesn't want anyone to know who she is. She runs into Fred and Barney, who of course don't recognize her. She babysits Pebbles and sings her a sweet lullaby called "The Littlest Lamb", and of course charms the whole family. They decide she deserves a shot at show business (ok, the plot is kind of fuzzy here, but you get the idea) and work on a little song-and-dance routine with her. She humors them and they go down to her performance at the Hollywood Bowl, but bone-headedly wonder how they are going to break it to her that she isn't going to make it onstage, while the rest of the Flintstones gang watch on TV at home. Get ready to hit the rewind button again and again when the announcer comes out and announces, "Ladies and Gentlemen...Ann-Margrock!!" From backstage, Fred and Barn in unison: "wh--ANN-MARGROCK?" and she kicks in to a great rendition of "I Ain't Gonna be Your Fool No More", one of the catchiest songs AM recorded in the 60's. You also get to see the great beatnik back-up band, playing instruments that are actually stone-age animals (think musical versions of Wilma's famous elephant vacuum cleaner, etc) rockin' along in the background.

You can tell all of the animators involved were probably infatuated with Ann-Margret, (like every other breathing male on the planet was at the time), because the cartoon version of her mimics her little go-go dance moves and mannerisms perfectly.

Just adorable, and like I said, the song is one of her catchiest and most endearing, and you can tell the real Ann-Margret had a blast doing the show. The "Stony Curtis" episode is amusing, too, (especially when Wilma and Betty swoon in his presence...though if you ask me, Rock Quarry was hotter) but Ann-Margrock is an impossible act to follow. Yabba Dabba Doo!

Grade: A

just a little triva that I can't help being reminded of-when the live-action Flinstones movie came out and all the critics ripped it apart, the local paper here reviewed it with the title "Yabba Dabba Boo". (another was was "Yabba Dabba Don't")